January 26th, 2010:
The Quest for the Ivory Gull
A friend, Theresa Hartz, called me on Tuesday January 26th and asked if I would like to drive down with her to West Point Dam to see a reported Ivory Gull. So if you came into the store on that day and didn't see me, now you know why.
So, let me tell you what was so special about this bird that I would abandon work, drive two hours South and through Atlanta, and stand out on a dam in the cold and wind. Frankly I would much rather be in Georgia looking at this bird than to be in his actual range since that would include the artic and polar bears. This is this first recorded Ivory Gull in Georgia, it was a life bird for me and it was a real treat to see.
We arrived at the dam at around 4:00pm and there were approximately 15 other birders standing around admiring this gorgeous bird. Everyone had binoculars and most people had scopes. Then there were the photographers with their long lenses and their cameras glued to their faces. Thank goodness for digital cameras because I remember hearing one man say he had already shot over 500 pictures of this little guy.
I'm using the term "guy" lightly as there really was no way to tell if this gull was male or female. As an adult it is the only pure white gull. He's a fairly small gull with a stocky build, black legs and a yellow tipped bill. The bird flew several times while I was there showing off his beautiful form and translucent qualities. He looked like a white dove out there on the water.
If you are interested in knowing where the rare birds have been sighted in Georgia there is a great list serve you can join. To join the list serve go to the website www.gos.org/gabo.html.
Thanks to Grant McCreary for letting me use his photo. He too was out there in the cold and wind enjoying this beautiful Gull.
Yvonne.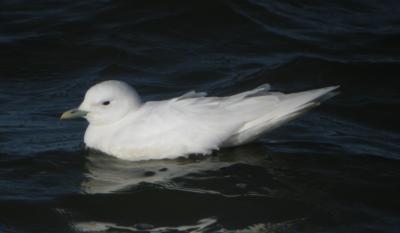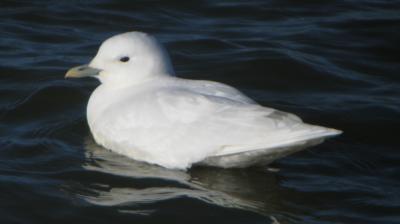 ***UPDATE: Shortly after we made this blog the Ivory Gull became sick and eventually died. Many times when a bird like this is found so far out of its own territory, finding the proper food to survive is hard.***