2018 Top Gifts
Seed Characters
These cuties are 100% edible bird food that your birds will love!. They come in a variety of characters and will fit a number of our feeders. After the birds have enjoyed them, we have other seed cylinders to replace the characters with for all year bird feeding.
Nora Fleming Serving Pieces
Nora Fleming unique serving dishes allow you to take one dish and use it for every holiday by switching out their interchangeable minis. With so many options, it will be hard to choose! They also create a gift you can add to for years to come.
Habersham Geo Candles
Habersham Candles are not your traditional candle. . . these candles make a room smell great simply by being out. No burning necessary! Habersham candles are also made locally!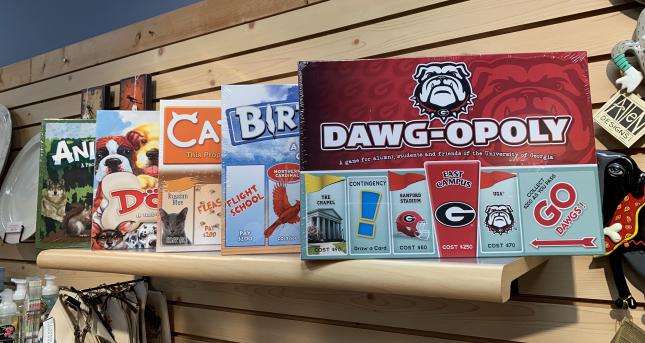 Dawg-opoly
A great spin on the popular Monopoly Game we have several different options including Bird-opoly, Cat-opoly and Dawg-opoly (UGA). Fun facts are included on all the cards so it can make these games educational as well!
Gift in a Tin
Great for kids, these tins include everything a kid needs for each hobby. Walking a dog, building a moving train set and creating mini fairies are just a few examples. They are great for traveling too!
Amia Stained Glass
These beautiful, hand-painted stained glass pieces make great gifts!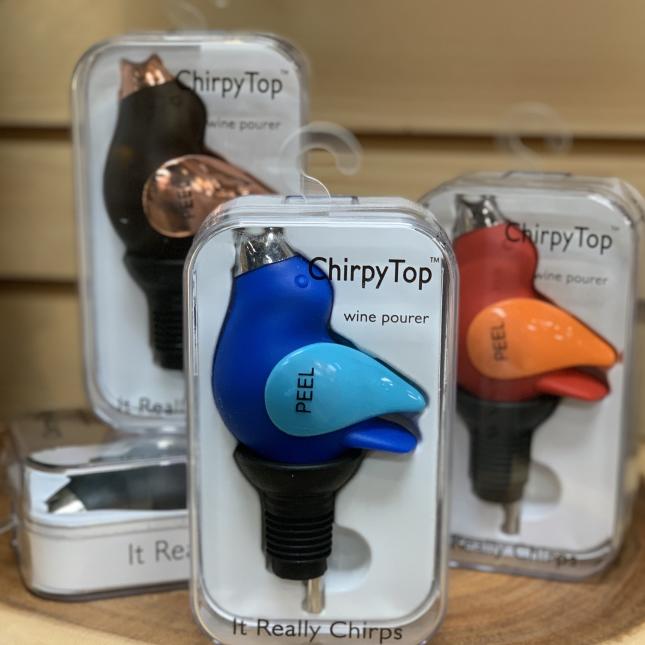 ChirpyTops.
These little birds really chirp! Put them on any bottle and when you pour they will make fun chirping noises. ChirpyTops make great hostess gifts as well as the perfect gift for any wine lovers.
Michel Designs
This line of soap and napkin products continue to be one of our best sellers in the store. Michel foamer soap and napkin sets make a great $25 white elephant gift. We also have a wide selection of everyday fragrances from Michel as well.
Duke Canon
Duke Canon is a men's line of soaps and grooming products with a little humor as well. With their popular "Big Ass Brick of Soap" as their best seller, these products are both funny, and quality. Be sure to read the packaging for a little laugh. Also a portion of proceeds go towards helping our veterans.
Indigo Bath and Body
And for the ladies we have this wonderful line of skin products from the local Marietta company, Indigo. Run by two girls at their farm, most all the ingredients are locally sourced.
Bedrock Candles
Made at a Christmas tree farm in North Carolina, this company actually puts ground up pine needles directly in their candles for a wonderful piney smell. You can't get much closer to actual pine tree scent in a candle than that!
Columbia Empire Farms Poop Candy
This is our favorite stocking stuffer! Made at a hazelnut farm in Oregon, this candy is funny and delicious! We have many different types of poop including Georgia Bulldog, Squirrel, Reindeer, Cardinal, Bear, and more! All of them come in the same delicious Chocolate Hazelnut Toffee flavor.