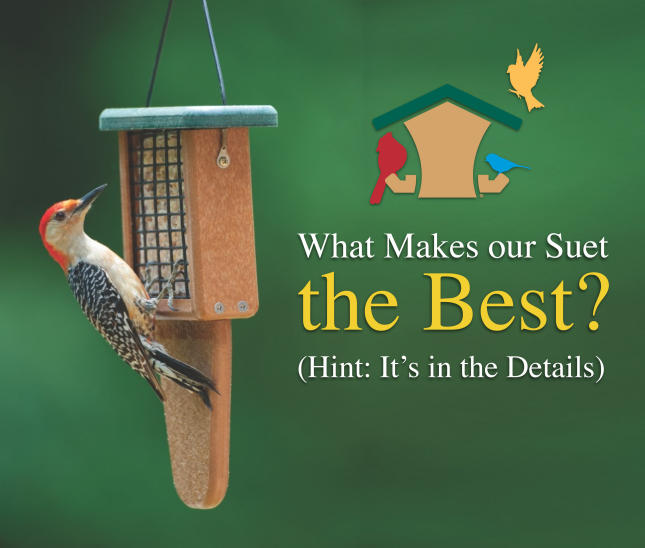 Right now is a great time to introduce suet to your yard if you aren't already offering it. Birds are looking for high fat foods such as suet to prepare themselves for winter.
Why feed suet?
Suet will increase the bird activity at a feeding station
It attracts insect eating birds that won't normally come to seed including woodpeckers, flickers, wrens, orioles, kinglets, and warblers.
Insect eating birds use suet as a supplement in the winter when insects are harder to find.
It is a tidy feeding option.
Feeding suet in the summer can help nesting birds get a good source of calcium and protein for egg laying.
What is suet?
Suet is a high energy, pure fat substance that is crucial to birds all year long. It consists mostly of rendered beef kidney fat. Rendered, which means to melt down, kills bacteria and removes moisture. It also makes suet melt at a higher temperature. To mimic the nutritional protein value of insects, we add ingredients like peanuts, tree nuts and/or dried insects.
Why Wild Birds Unlimited Suet?
WBU suet starts with high quality rendered beef kidney fat.
We minimize the low-cost, high carbohydrate fillers such as corn meal, cracked corn, milo, millet and wheat, which have no value to insect eating birds.
WBU suet includes more protein ingredients such as peanuts, tree nuts, and insects.
We make our suet specifically for attracting insect-eating birds.
All of our popular flavors of suet are also offered in a no-melt dough version, so you can continue to feed suet year round even during the summer when regular suet will generally melt.
Which suet is recommended to attract the most birds?
Nut and Berries Suet
Nut and Berries Suet includes peanuts, cranberries, almonds, pecans, and walnuts to attract the most different kinds of fruit and nut eating birds.
Which feeder do you recommend for feeding suet?
Recycled Tail Prop Suet Feeder
Woodpeckers have stiff tail feathers they like to prop against tree trunks in order to keep themselves upright. This feeder has a tail prop on the bottom perfect for making bigger woodpeckers comfortable while eating their favorite food. Even little birds have no problem clinging to this feeder. The WBU Tail Prop Suet Feeder is also made out of durable, easy to clean recycled plastic with a lifetime warranty!